I wrote this text exactly a week ago when I was on my way home from Nice with the TGV: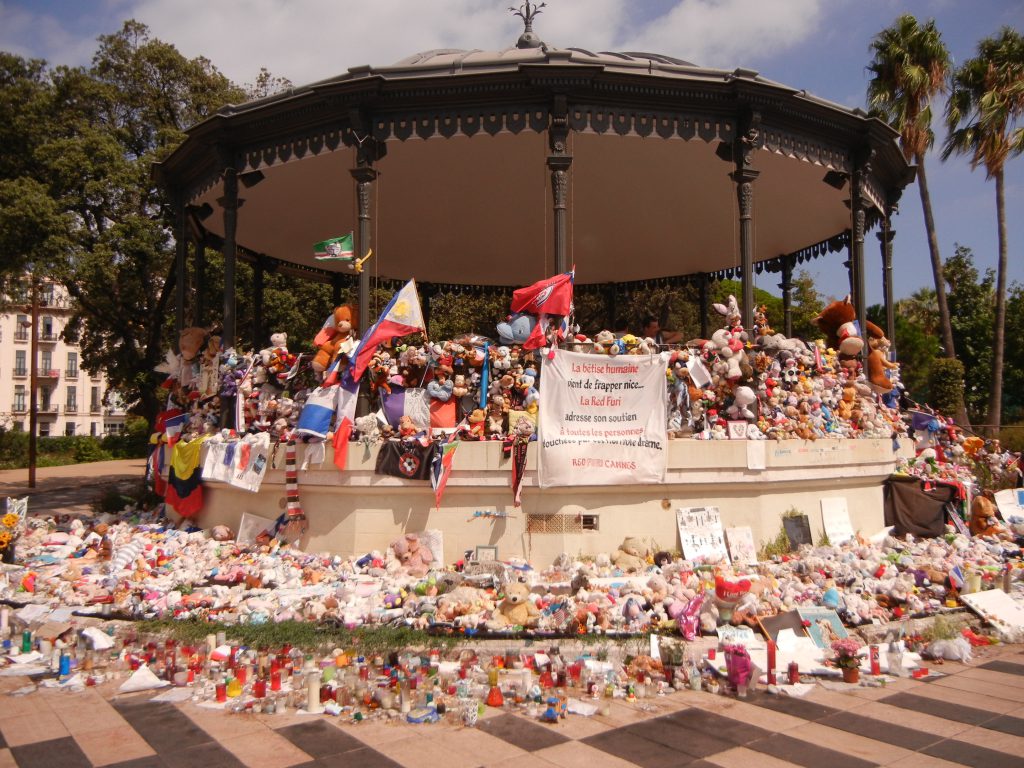 Nice, 2 months after the attack that no one can understand. Although less impressive than that other major attack in New York on 9/11 and also of a totally different nature than those attacks in November last year in Paris or in March in Brussels. But still an attack that continues to appeal to the imagination. How in God's name can anyone get it into their head to drive a heavy truck into a crowd of people for about a kilometre, after first robbing a few policemen with a ruse and entering a zone closed to traffic?
And was it a coincidence or a form of psychological insight that far surpasses mine ? The fact is that the time of the attack was extremely well chosen. Had that Mohamed Bouhlel with his truck been 10 minutes earlier, it would have been impossible for him to enter the restricted zone. But no, he waited until the fireworks had ended and the attention of the policemen was somewhat weakened, relieved that until then the celebration of the national holiday had not been disturbed by terrorists or other scum.
But life goes its normal course. Everyday people don't have time to dwell on all this for too long. The kiosk with memorial wreaths and other memorabilia on the Albert I square and the ditto place near the beach bear witness to the suffering and destruction (of human lives) that have taken place there and make tourists in particular pause for a moment to reflect on what has happened there and to grasp the heart and/or the throat, but these moments of modesty cannot last either.
But still, other statues have also stuck, such as that pram that is tied to a tree on the central reservation of the Promenade des Anglais, or also the candles, flowers and plush toys that have suffered the same fate on the same central reservation.
For the greater part of mankind life goes on, for those who were directly involved in the attack, either as victims or survivors, it is quite different. For those people, life is no longer the same as before and much more than anyone else, they are left with the life-sized question: WHY?
And then there is the question of how we as a society deal or should deal with a fact like blind terrorism. Also in the past we have had to deal with terror in our country and in Europe, although that was also some time ago. The left-wing terrorists Carette and C°, who with their CCC (Cellule Communiste Combatante, 1984 – 1985) made the country unsafe with their bombs, chose material targets in the first place and almost apologize when they made a physical victim in Brussels 'almost by accident' in the form of a fireman.
And both the bombs of the IRA and of the Libyan terrorists, as well as the kidnappings of the left-wing Bader Meinhoff group (Rote Armee Fraktion, 1970 – 1998) seemed only far from our bed, while in the meantime the big world has come so much closer and the attacks of recent times are much closer to our bed, if not right next to it.
Is the question still how we as a society deal and want to deal with such forms of violence and terror ? Do we want to go in the direction of Israel where they have been traumatized by decades of similar violence and have been hit by tunnel vision to such an extent that behind every palm tree they see a Palestinian terrorist and anyone who shows even the slightest sympathy with the fate and suffering of his cursed Palestinians (and of which a large part are equally affected by tunnel vision) as a state danger ?
Is the question still how we as a society deal with such forms of violence and terror and how we want to deal with them ? Do we want to go in the direction of France where both left (Hollande) and right (Sarkozy) and so many others see France as a country at war and with the hot breath of populists at the back, very hard in the direction of a police and army state ?
In the fight against terrorism, such a display of police and army is clearly visible, which is apparently a reassuring thought for politicians because it allows them to show the general public that they are actively working on the problem. However, the work that matters to him, the silent info- and detective work that effectively ensures that attacks are foiled and terrorists can be arrested, remains under the radar and is therefore considerably less mediagenic and less useful for populism.(*)
The big problem is that, for the sake of our real or supposed security, we all too quickly risk becoming lax about the freedoms that have been so laboriously acquired, such as freedom of expression, freedom of association, protection of privacy, … we risk wanting to give up. Measures that may well be well-intentioned, but which, when the gap is made too big for that, and when that gap is guarded too laxly, the standards become blurred and all kinds of authorities in the name of the government that goes it's own discretion and ability to fill that gap without too much control from above. With which we threaten to copy the workings of the Israeli state far too quickly.
Certainly not an easy theme where no one can pretend to have the ultimate and ideal solution in store. But also not a situation in which we will lose every critical attitude and even nip every critical voice in the bud while guarding our security. And even though the public debate has become too superficial, populist and even racist in recent years, such a debate with arguments for and against remains more than necessary. Above all, however, we must not lose sight of the nuance and empathy for the arguments of others.
(*) Honesty must also be told that in France there is not only a very strong commitment to the presence of politics and the army in the streets, but also that a lot of work is being done behind the scenes to stay ahead of attacks.
(c) Nico Callens